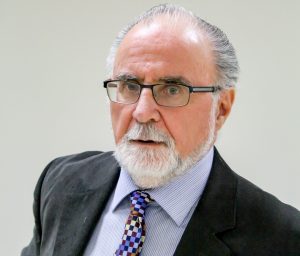 GEORGE B. CUFF, FCMC is a well-known name in the world of local government and author of the best-selling and highly praised books Making a Difference: Cuff's Guide for Municipal Leaders – Volume 1 and Making a Difference: Cuff's Guide for Municipal Leaders Volume 2. His latest book is Leading: The Real Value of a Mayor & Council.
He has authored numerous manuals and publications on topics relating to municipal government, public sector administration, and leadership. His articles on governance and management have been published over the past two decades in Municipal World magazine. He has compiled a collection of these articles, published as a series of books under the title Off the Cuff, Volumes 1, 2, and 3.  His subsequent books include Executive Policy Governance and Life's Lessons inside City Hall: A collection of Short Stories from the trenches.
His Governance Zone column appears monthly in Municipal World magazine.
Each year, Cuff speaks to various councils, boards, associations and management groups on a wide variety of issues pertaining to governance and senior management. Noted for his no-nonsense approach to municipal governance, he has conducted organizational studies and/or seminars for more than 300 organizations, including both the public and private sectors, and has worked in all provinces of Canada, the Yukon, Northwest Territories, and Nunavut.
His experience includes involvement with local government in various roles since 1970, including that of a department head, and a mayor. He is also a past president of the Federation of Canadian Municipalities and the Alberta Urban Municipalities Association. A student, teacher, and advisor on the art and principles of governance and the elements of effective organizations, Cuff has effectively applied his academic and experiential observations in his role as advisor to numerous small and large public sector organizations across Canada.