District energy systems offering municipalities a game-changing tool
May, 2023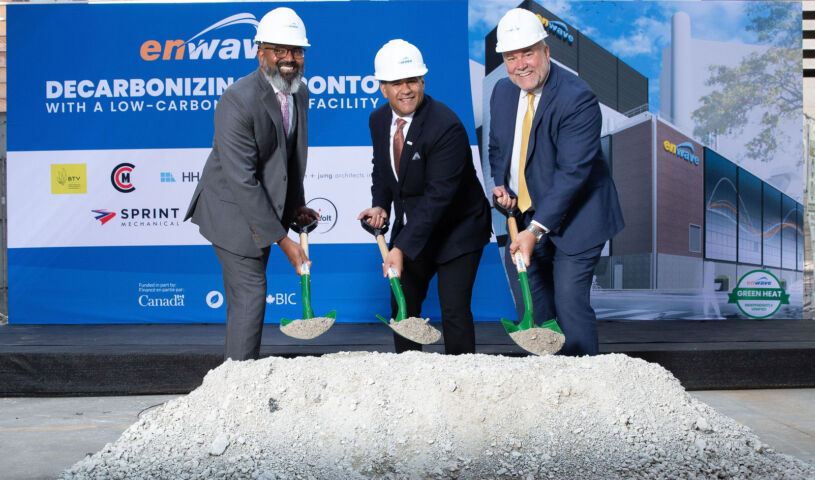 Enwave Energy Corporation recently broke ground for their new low-carbon heating facility in downtown Toronto. Taking part were (from left) Sashen Guneratna, Managing Director, Investments, Canada Infrastructure Bank; Carlyle Coutinho, CEO, Enwave Energy Corporation; and Todd Smith, Ontario Minister of Energy. Photo by Enwave Energy
Municipalities are continuing to lead the battle against climate change. As such, the Canada Infrastructure Bank (CIB) is helping provide them with tools toward reaching a net-zero future.
One of those tools is the growth in district energy systems. These systems involve a centralized plant producing hot water, steam, and/or chilled water. This then flows through insulated pipes to provide hot water, space heating, and/or air conditioning for nearby buildings.
District energy systems provide heat and cooling to buildings while using less energy than if individual buildings had their own HVAC systems. As a result, these systems help reduce air pollution, including greenhouse gas (GHG) emissions.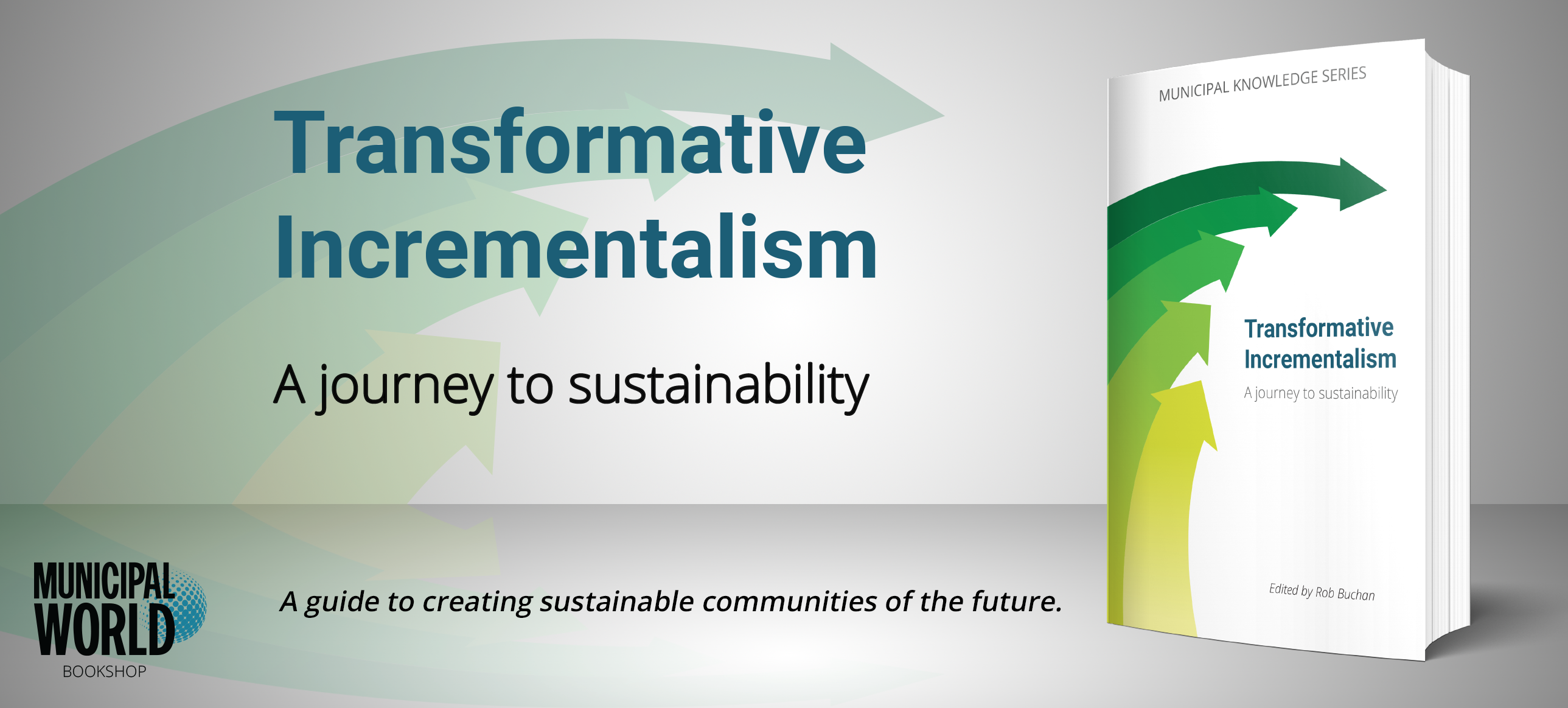 Game-Changing Technology
It is this key benefit that makes district energy a game-changer for municipalities, said Sashen Guneratna. CIB's Managing Director, Investments. The impact can be "quite significant" when considering the largest generators of GHG emissions, he said.
One source of municipal emissions is vehicles. A public transit system, for example, creates a lot of emissions when buses are burning diesel fuel or even natural gas.
Another large source is buildings. Because of the Canadian weather, it takes a lot of energy to heat buildings in the winter and cool them in the summer, making them a significant contributor to GHG emissions.
"A large portion of our emissions in this country – around the world – are generated by buildings, and having each building responsible for their own heating and cooling is not efficient. So, to the extent that you can have central heating and cooling supplied to buildings as district energy, it's much more beneficial to Canadians, from a GHG perspective," Guneratna said. "And also for customers, once there is scale and enough customers paying for a system, it can be competitive or even sometimes cheaper than fossil fuel-based heating and cooling."
This technology is seeing an increase in popularity. For example, CIB is currently working with partners for projects in the cities of Toronto and Markham, Ont., and Richmond, B.C.
In Toronto, CIB is working with Enwave Energy Corporation on a system that will provide low-carbon heat to the city's district energy grid.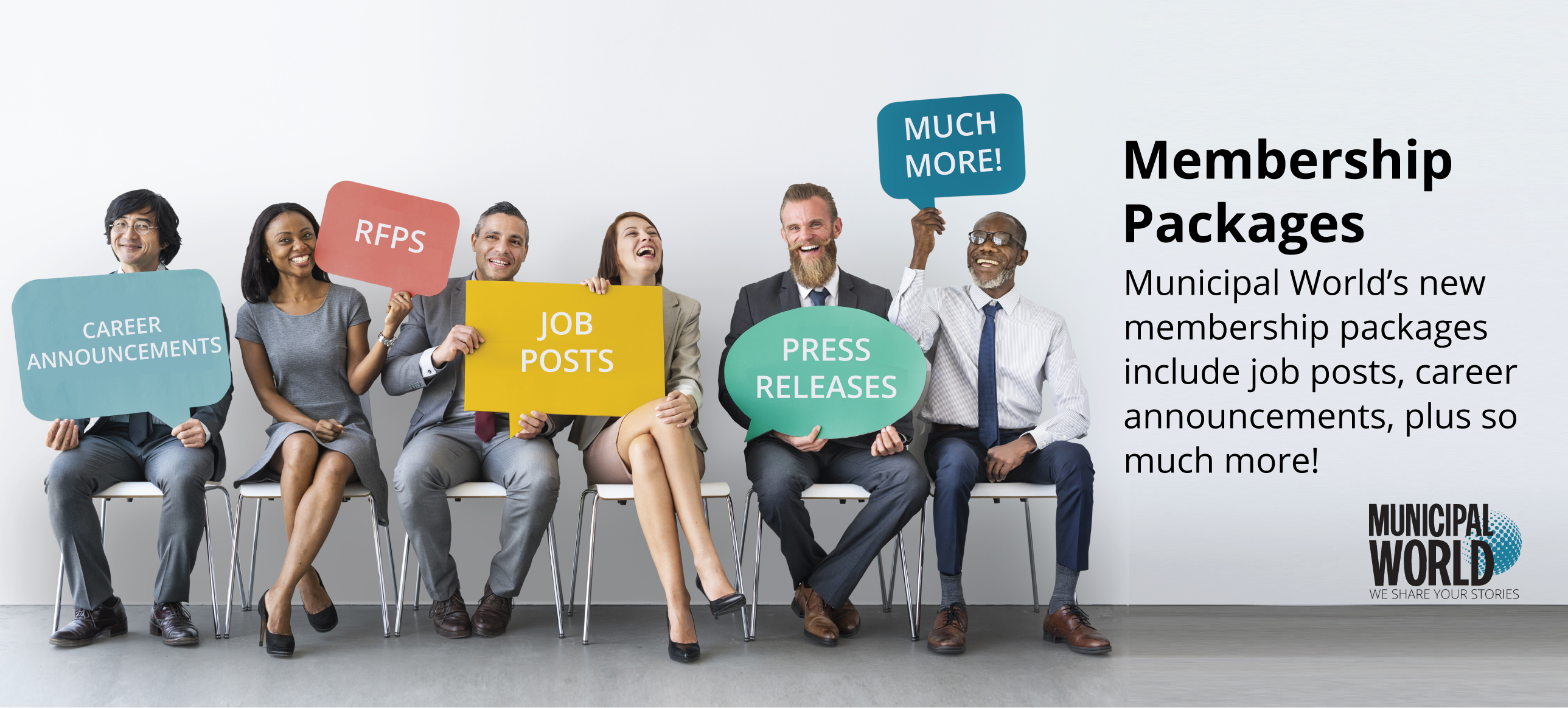 "As leaders in the energy transition, we are always looking at innovative ways to expand our positive impact and serve even more of Ontario's residents, institutions, and businesses," said Carlyle Coutinho, CEO of Enwave Energy Corporation. "Adding this state-of-the-art heat pump facility to provide 'Green Heat' demonstrates our commitment to this city and province, the development community, and our stakeholders."
Similar sentiments are coming out of Markham and Richmond. This, Guneratna said, is essential in getting more municipalities to look at district energy.
Municipal Word of Mouth
One significant challenge in Canada is that to make district energy more successful there needs to be density. Unfortunately, Canada doesn't have a lot of density once you get out of the main centres. And this is a problem.
Local governments, by their nature, shy away from introducing new things, Guneratna said. But they are also quick to adapt to successful programs in other municipalities. That's why it is important, even with these three projects, that a path toward success can be charted.
"That is definitely the hope. Nobody wants to be the guinea pig in this space. We've got a lot of positive press and momentum," Guneratna said. "And folks – like the mayor of Markham and the mayor of Richmond and all those folks – are saying, 'Look, we've done this and now there's a model.' We're hoping that there's more adoption through that kind of word of mouth and also the kind of outreach that we are doing."
Bruce Ander, President and CEO of Markham District Energy, said CIB funding was a catalyst to advance the company's business plan to connect buildings and lower its carbon footprint. Although district energy systems have been in place in Canada for more than a century, he said it is becoming clear that they are a leading strategy to help urban centres move to net zero.
"The creation of a green bank [CIB] provides a solid foundation for low-carbon investment partnerships between the federal government, which owns the net-zero target for Canada, and the private sector that will deliver impactful projects."
Business Case for District Energy
So, what is holding back the widespread adoption of district energy? Yes, density is an issue, but Guneratna said the primary hesitation as cost. Putting in an initial system is quite costly. If one looks at a municipality today with so many competing priorities for dollars, these systems are rarely close to the top of the priority list of many politicians.
District energy systems are long-term assets with payback spread out over 30 or 50 years. As Guneratna puts it, it is a tough business case. So the question becomes, how can municipal politicians – who are used to thinking in a four-year window – be convinced to support a district energy system that will help their municipality three to five decades from now?
For Guneratna, the key benefit is the GHG reduction and points to the City of Richmond as an example. Part of the reason CIB got involved in its district energy project is that the municipality is growing it from three million square feet to 50 million square feet. CIB showed that it could invest in the project and keep the cost similar to a fossil fuel alternative. It would also take the risk on that growth. By doing so, the municipality was comfortable that that the system would build out and it wouldn't cost the taxpayers more money. In addition, CIB would take the ratepayer risk.
"You build the system today in phases. And then once a phase is completed and buildings come in and people start paying their electricity bills or their heating and cooling bills, there's a critical mass," Guneratna said. "We're a very unique instrument in that we can bridge that gap, to take into account the growth. And also, make it similar to the emitting option until there's sufficient buildings and people living in those buildings, paying their heating and pooling bills, until we are no longer required."
Of course, the GHG savings, which are often top of mind, are not the only selling feature. Guneratna said when a municipality puts in a district energy system, it is a positive indication about the future growth of the community itself. They are creating jobs in construction and operations as well as showing developers and people who want to move to the municipality that their new home is a green community.
There still remains the question of cost. While a political decision often takes spending into account, the average taxpayer may balk at a difficult expenditure. This is especially true in a time of economic hardship.
Getting the public onboard with such an expense is part of growing district energy solutions. Guneratna said local governments focus their messaging on the cost benefit. The messaging needs to say that with partners like CIB, and maybe a private sector partner that is an expert in this field investing its own money, it is not going to result in the heating and cooling bill of the average resident being higher than it was.
That message needs to be conveyed to developers looking to invest in and build in the community, Guneratna said. "Explain to them that if you come into my community there's a system and we want you to plug into that system because we have aspirations to be a green community."
New Technology, New Opportunity
District energy is a great solution in an urban setting but Canada doesn't have a lot of large, urban municipalities, Guneratna said.
So, what's the solution? Is it simply technology needs to change, or Canada needs to grow in those rural settings? What will make this sort of system a successful option for a small, a rural and northern community?
Guneratna said district energy systems achieve the highest impact in areas of high density. For a remote or smaller community, cost is a key factor. Not only is connecting each building to each other and generating the heat and cooling expensive, but it also takes time. The issue is one of cost versus technology issue.
But technology is always improving which means district energy is increasingly a solution for more municipalities whether they are in colder environments or are smaller communities.
"Five hundred thousand people moved to Canada last year. In the very near future, we've got significant growth targets for new immigration," Guneratna said. "Cities are trying to attract talent and are growing. They need to build new buildings. They should really think about this and think about 20 years from now when they want to be a zero-emission city. I think you've got to start thinking about that and starting to make investments today. You can't switch overnight."  MW
✯ Municipal World Executive and Essentials Plus Members: You might also be interested in Sean's other article: Iron & Earth: Training the clean energy sector's future.
Sean Meyer is Senior Editor for Municipal World.
Related resource materials: