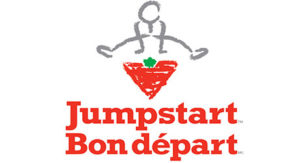 Raising funds. Lifting spirits. Supporting dreams.
Jumpstart is more than just about getting kids active. It's about giving kids from families in financial need the same chance to participate as their neighbours, their classmates and their friends. Whether it's the chance to try a new sport or to continue with a favourite one, no kid should be left out.  
The vision of Jumpstart is simple: Canada, where all kids have a chance to fulfill their dreams.
Jumpstart is a national charity with a commitment to local communities. Organized sports connect kids to their communities. Canadian Tire Corporation recognized this and makes sure that money raised stays where it is donated. Canadian Tire Corporation is Jumpstart's biggest supporter as it funds all the general administrative expenses of Jumpstart, which means 100% of customer donations go directly to help kids in need.
Community Partners, like the Canadian Paralympic Committee, Boys and Girls Club, Maison de la Famille, URLS, Centre Jeunesse and numerous others work with local Jumpstart Chapters to identify the kids whose families need Jumpstart's funding assistance to get them off the sidelines and into the game. What kids do is up to them; we're here to help them do it.
Jumpstart: Giving Kids a Sporting Chance.