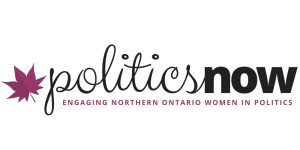 Posted in: News Item
Date Posted: 2018-11-05
Organization Name: PoliticsNOW
After a week of compiling data, PoliticsNOW is releasing statistics about the state of women in politics in the north after Ontario's 2018 municipal election.
"Many cities improved on their 2014 numbers, and in some cases, even doubled the number of women that were elected to council," said PoliticsNOW founder Amanda Kingsley Malo. On Monday, North Bay doubled the number of female representation on their city council, which now sits at 18 percent. Timmins also elected more women, and now sits above the United Nations recommended minimum threshold for effective representation in decision making. Kenora comes close to meeting that minimum threshold as well, with women holding 29 percent of the available council seats. Sault Ste Marie also improved overall, with women holding 27 percent of the available council seats.
Other cities hovered around the same percentage of women elected as they did in 2014, such as Temiskaming Shores and Dryden. Elliot Lake and Greater Sudbury are the only cities in Northern Ontario to have elected fewer women than they had in 2014. Elliot Lake nearly had gender parity before the election, and now only has one woman on council. Greater Sudbury's new council will have two women less, with only 15 percent of the available council seats now being held by women.
"While we are disappointed to see the dip in representation in some cities, we are thrilled about the results in others," said Malo. When asked why she thought so few women were getting elected, she replied, "When women run, the data shows that they are elected at the same rate that men are. Women often choose not to run for any political office, and that has been true for this past election as well, where only 27 percent of all candidates that ran municipally in Ontario were women. That being said, that is a huge improvement from 2014, when that percentage sat at 23 percent."
To eliminate some of the barriers that women face when running for election, PoliticsNOW hosted several events aimed at training and preparing women, such as campaign bootcamps and online webinars. The organization contributed, trained, and/or supported 26 women candidates across Northern Ontario in this last municipal election. Nine of those women were elected, with many of them running for political office for the first time. "We're very proud of all of the women who ran for any municipal position," added Malo. "We're also looking forward to touching base with them over the next few months, and learning from their experiences on the campaign trail. Those experiences and stories will help shape the next four years of advocacy and training that PoliticsNOW will do as an organization. The work to get women elected in 2022 starts now!"
Look for PoliticsNOW to host campaign schools and revisit some of their earlier programs, such as their "City Hall Fieldtrips" and their "InspireNOW" talks, in the new year.