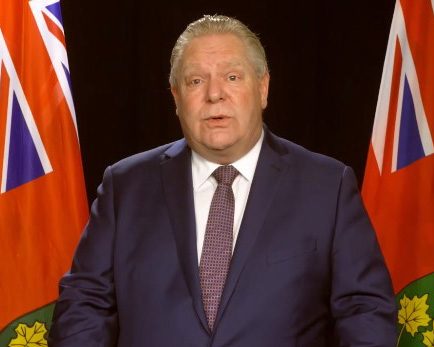 Posted in: News Item
Date Posted: 2021-01-26
Organization Name: Rural Ontario Municipal Association
Premier Doug Ford addressed Ontario's municipal leaders during the opening day of the Rural Ontario Municipal Association (ROMA) Conference, on January 25. Premier Ford delivering the message that the province will continue to "have the backs" of local governments in the face of ongoing challenges of the global pandemic. The ROMA Conference marks the first large meeting of municipal governments in Ontario since the pandemic entered its second wave.
"Municipal governments across Ontario continue to deliver critical services that help keep our communities safe during this second wave of the COVID-19 pandemic," said Mayor Allan Thompson, Chair of ROMA. "Through this virtual meeting, rural municipalities large and small come together to learn from each other and connect directly with provincial officials on issues that matter to our communities, including economic recovery, long-term care, public health and access to broadband."
In his address, Premier Ford announced that the 2021 funding envelope for the Ontario Community Infrastructure Fund (OCIF) will remain stable at $200 million for 424 municipalities that receive it. OCIF supports core municipal infrastructure such as roads, bridges, water, wastewater and stormwater systems.
Almost a dozen provincial ministers were online to field questions from municipal elected officials in an open forum. Topics included vaccine rollout, municipal insurance costs and the Government's consultation on joint and several liability, long-term care beds in rural Ontario, childcare, access to mental health resources and more. A second Ministers' Forum takes place on Tuesday, January 26.
Keynote presentations for day two include:
Hon. Steve Clark, Ontario's Minister of Municipal Affairs and Housing;
Hon. Ernie Hardeman, Ontario's Minister of Agriculture, Food, and Rural Affairs;
MPP Stephen Blais, Ontario Liberal Party;
Mike Schreiner, Leader of the Green Party of Ontario; and
Maryam Monsef, Canada's Minister for Women and Gender Equality and Rural Economic Development.
More than 1,100 participants will take part in the conference, which features more than two dozen speeches, sessions and workshops. Municipal staff and elected officials will take part in nearly 300 online delegation meetings with provincial ministries. Production of the conference was modified to meet changing provincial public health measures.
ROMA takes pride in promoting, supporting and enhancing strong and effective rural governments. About 270 of Ontario's 444 municipalities have populations of less than 10,000, while scores more are rural in character. The rural arm of the Association of Municipalities of Ontario, ROMA advocates for policies and programs that will help build thriving rural Ontario communities.