Chief Privacy Officer & Manager
Halifax Regional Municipality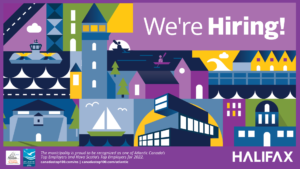 Application Deadline: 2022-12-24
Date Posted: 2022-11-24
Location: Halifax, Nova Scotia
Compensation: $91,000 - $150,000
Chief Privacy Officer & Manager, Access & Privacy
Make a Difference at Halifax Regional Municipality
Halifax Regional Municipality's (HRM) mission is rooted in taking pride in providing high-quality public services that benefit our citizens. HRM strives to provide its clients and citizens with the best quality of life in a healthy, sustainable, and vibrant community.
To help us further this mission, we are pleased to invite applications for the exciting opportunity of Chief Privacy Officer/Manager, Access & Privacy. The position will be part of a dynamic team within the Legal & Legislative business unit.  The successful candidate will lead a group of dedicated access and privacy professionals who are passionate about helping the municipality uphold its commitment to being an open, transparent and accountable government that protects the privacy of personal information.  Halifax Regional Municipality(HRM) is committed to reflecting the community it serves & recognizing Diversity & Inclusion as one of the Municipality's core values. We have an Employment Equity Policy & we welcome applications from African Nova Scotians & Other Racially Visible Persons, Women in occupations or positions where they are underrepresented in the workforce, Indigenous/Aboriginal People, Persons with Disabilities & 2SLGBTQ+ Persons. Applicants are encouraged to self-identify on their electronic application
The Chief Privacy Officer/Manager, Access & Privacy will manage the Access & Privacy Office, which is the central resource for all municipal employees on access and privacy issues.
The ideal candidate is passionate about an individual's right to access information, including their own personal information and believes that the protection of privacy by preventing the unauthorized collection, use and disclosure of that information is key to good governance.  
You are experienced in managing a legislative required function and have demonstrated success with ensuring compliance and motivating individuals, you value and excel in providing exceptional service and support to both internal and external clients and have a commitment to lead and act with the highest level of professionalism, integrity and ethics.
For a detailed list of duties and responsibilities, please email jobs@halifax.ca
QUALIFICATIONS
Education & Experience
A Bachelor's Degree in a related field (such as information management, public administration, or related discipline) is required. Preference will be given to a Candidate with a Master's degree in a related field or a suitable combination of education and experience.
Minimum 10 years' experience in a senior decision-making capacity within an access and privacy or legislated/regulatory environment.
5 years' experience managing human and financial resources is preferred.
Designation relating to information/privacy professional, such as CIPP/C.
Technical/Job Specific Knowledge and Abilities
In-depth knowledge of and ability to interpret, apply and implement access and privacy legislation, policies and/or regulations.
Exceptionally strong written and verbal communication, facilitation, negotiation, and presentation skills.
Working knowledge of administrative law and procedure as well as familiarity with mediation processes and procedures.
In-depth knowledge of trends and key themes in the information access and privacy arena.
Well-developed research, analytical and synthesis skills.
Strong understanding of risk management concepts and principles.
Demonstrated knowledge of municipal government and the services provided.
Ability to interface and gain respect of stakeholders at all levels and functions of government.
Good judgement, a sense of urgency and demonstrated commitment to high standards of ethics.
COMPETENCIES: Analytical Thinking; Communication; Visioning, Strategic Thinking & Innovation; Organizational Awareness; Decision Making; Values & Ethics; Risk Management; Networking/Relationship Building; Developing Others; Valuing Diversity
WORK STATUS: Permanent, Full-time
HOURS OF WORK: Monday-Friday, 8:30 am – 4:30 pm, 35 hours per week. Some flexibility may be required due to operational needs.
SALARY: Non-Union Level 9, $94,540-$129,990. Salary is commensurate with education and experience. 
WORK LOCATION:  5251 Duke Street, Halifax, NS
CLOSING DATE: The competition will remain open until a successful candidate is identified through the recruitment process. Screening of applicants will commence once posted and continue until the position is filled.
Please note: We thank all applicants for their interest in this position. Only those applicants selected for interview/testing will be contacted.
During the recruitment process, applicants have the right to request an accommodation. Applicants invited to participate in an assessment process (such as an interview or testing) and who require accommodation, should discuss their needs with the Recruiter when invited to the assessment process.