Back to all Articles
Rinks of dreams
Canada's hockey heritage and the connection to community identity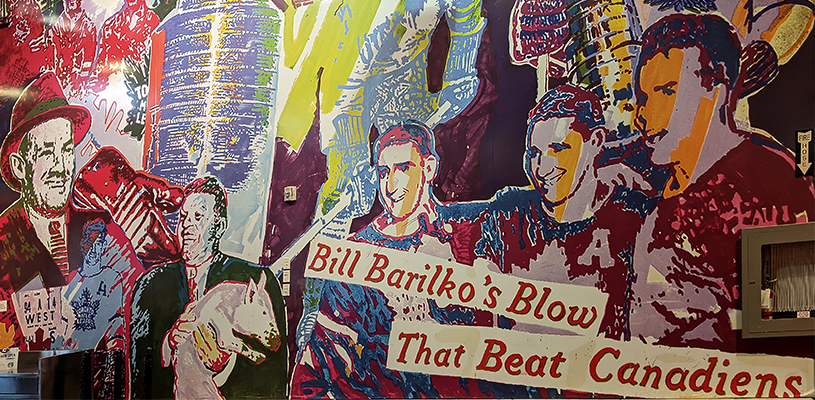 Bill Barilko's Blow That Beat Canadiens: Thanks to amazing vision and creativity, Maple Leaf Gardens was saved and adapted to new uses as a multi-purpose facility. This Maple Leafs Mural can be found in the Loblaws Grocery Store that now occupies retail space on the lower floor. The mural in the photo is a replica of a mural that was created by artist John Richmond (1926-2013) in 1994 while the Maple Leafs were still playing in Toronto's Maple Leaf Gardens. When the lower floor of the building was renovated for the Loblaws, the mural was re-created using photographs and erected in the store where it stands today. Photo: Michael Seaman.
Published in February 2021 - Page 5
The game of hockey represents the heart of community life in Canada's small towns, providing multi-generational entertainment, social gathering, and a source of community pride in the long, dark months of the Canadian winter.
In its absence this year, many are turning their attention to the rich history that the sport has left across this land, reading, interpreting, and commemorating the glory days of yesteryear.
As humans, we have an amazing talent for adaptation and,
ALL MUNICIPAL. ALL ACCESS.
All content
Digital or Print Magazines (12 annually)
Post Jobs
Post RFPs
Post Events
100 Years of Research
When it's time to turn a new page, trust Municipal World to up your game
with innovative trends, emerging issues, important stories while
highlighting game-changing people in the Canadian municipal sector.