UBCM 2017 recap - day one
Conference proceedings well underway for delegates at UBCM in Vancouver
Uncivil Civic Engagement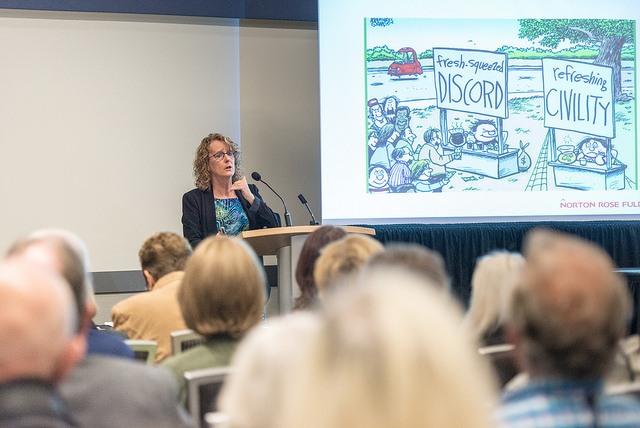 Photo by UBCM
Kathleen Higgins, Partner, Norton Rose Fulbright, discusses "Uncivil Civic Engagement" in a pre-convention clinic Tuesday morning. Higgins covered issues related to public attacks on municipal council members and staff via social media, and the steps that can be taken to stop this behaviour.
---
FCM President addresses delegates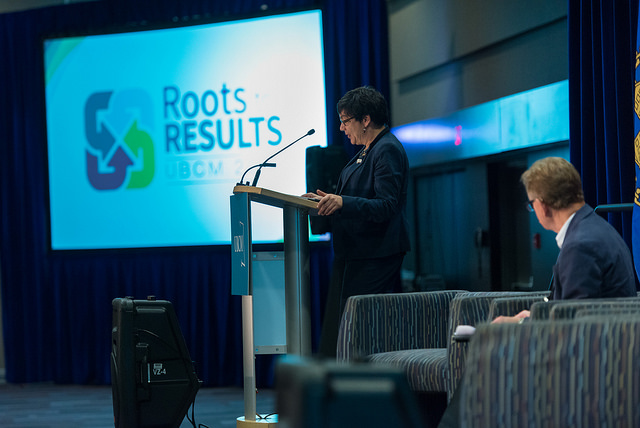 Photo by UBCM
Jenny Gerbasi, President of the Federation of Canadian Municipalities, addressed delegates at the UBCM conference Tuesday afternoon.
---
Provincial Regulation of Non-Medical Cannabis
A policy session on Provincial Regulation of Non-Medical Cannabis had a full room Tuesday afternoon. The session came close on the heels of the surprise announcement on Monday by Mike Farnworth, Minister of Public Safety and Solicitor General, that the UBCM has been invited to establish a standing committee with the province to support the development of the regulatory framework for cannabis legalization in British Columbia.
"Local governments welcome the start of the consultation process as we move towards creating a made-in-BC approach to legalization," said UBCM president Murry Krause. "Our members want to discuss issues like taxation, retail sales and personal cultivation in advance the regulatory framework being set in place. The proposed standing committee sounds like a good vehicle to support discussions."
---
Flooding and Wildfires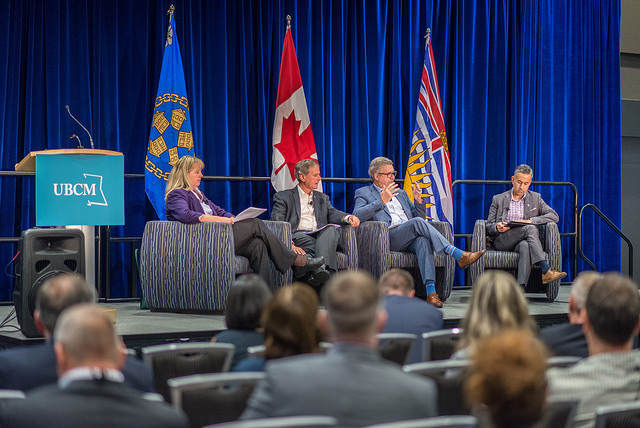 Photo by UBCM
Insights around municipal emergency planning and response came into focus as panelists discussed B.C. local government responses to flooding and wildfires in 2017, in a session entitled "Leading through Crisis." Panelists included Ian Cunnings, Senior Regional Manager, Emergency Management B.C.; Brian Reardon, CAO, Central Okanagan Regional District; and Kimberley Nemrava, Red Cross.
---
Leadership on Climate Change
The BC Municipal Climate Leadership Council (BCMCLC) met with the Honourable George Heyman, Minister of Environment and Climate Change Strategy, a number of MLAs and key stakeholders to discuss collaboration on the urgent issue of climate change.
Hosting the 8th annual Ministers' Breakfast at the UBCM convention, Mayor Richard Walton of the District of North Vancouver noted that "BCMCLC is providing visible, inspiring, local leadership on climate change that goes beyond politics as usual and we welcome the opportunity to showcase BC's leadership on continued collaboration between provincial and local leaders."
B.C.'s local governments influence over 55% of greenhouse gas emissions, having direct and indirect impact on construction, transportation, and waste management. The majority of BC communities have adopted a Community Energy and Emissions Plan and have set specific targets for GHG reductions. That means almost 80% of the population in the province is living in a community with a plan to address climate action.
"The time is now," Walton urged. "Plans are important, but so is action. With the province's renewed commitment to climate action and the federal government's support through future infrastructure funding, opportunities abound for local governments to lead their communities into the green future they desire."
"Provincial and federal politicians are more aware of community energy leadership momentum than ever before and there is broad-based support at all levels of government," shared Castlegar Mayor Lawrence Chernoff. "The BCMCLC collaboration between local and provincial leaders shows climate action moving beyond partisan politics."