True moral leadership requires empowering women
True moral leadership seems to be in short supply today. Yet, it's something that communities and organizations continue to crave.
What is true moral leadership? Leadership advocate and Lawyer Anna Maria Chavez says it means standing up for all groups of people, genders, colours, ethnicities, social status, and more. A true leader will lead a diverse community, using the various differences as strengths, she says. And, people see female leadership different from male leadership, that is why it is so important that men and women encourage women to take on leadership roles.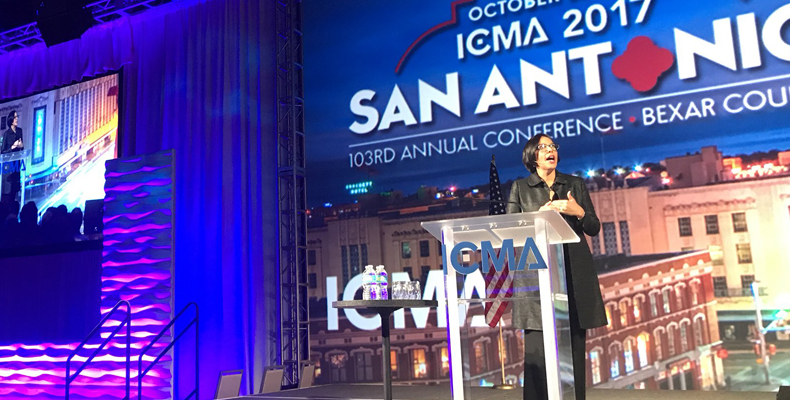 Chavez delivered a powerful keynote address on leadership, empowering women, and advocating for others at the recent ICMA annual conference in San Antonio, Texas. Chavez emphasized that all leaders require moral ethics, and that leaders must support all people – all genders, colours, ethnicities, and social statuses. She presented the foundation of her own personal leadership development, and how she went on to lead and advocate for others.
Building a Leadership Foundation
Chavez began her leadership journey as a Girl Scout. By joining the organization, she was able to foster and develop her leadership skills surrounded by other girls and female leaders at a young age. As she became an adult, she continued her role in the organization as a leader, ultimately becoming the first woman of colour to lead the enterprise as CEO.
Early on in this role, Chavez discovered that the enrollment was on a steep decline for the last decade. The model that had worked for so many years, was no longer relevant. But, Chavez understood the challenge – and importance – of creating strong female leaders. She knows young girls need a safe space to fully be themselves, surrounded by female peers, so they can focus on developing their leadership skills. So, she set out to completely redesign the organization to effectively foster strong future female leaders. Chavez was extremely successful in her efforts. Today, enrollment is up and the organization is creating strong female leaders for the future.
Encouraging Leadership
Chavez shared another story about a friend who was presented with the opportunity to become the interim mayor for her city. Excited for her friend, Chavez asked when she was going to apply, and was surprised to hear her friend's lack of confidence in her experience, enough so not to apply. At this point, Chavez took the moment to encourage and push her friend, reminding her of her amazing qualifications, and stating she was the best candidate for the job. This woman not only got the position of interim mayor, but continued on to subsequently win the election. She is still a prominent female leader in her community and in government, says Chavez.
While most people argue about when and where the next civil war will be, Chavez believes that it is happening now, on the playgrounds. Children learn rapidly at home, in the classroom and on the playground, and it is there where they begin leading. For girls, that early leadership initiative may be followed with negative reinforcement such as being called "bossy." From there, young girls are moving away from leadership roles. It is up to the leaders of today to encourage and help develop female leadership skills from an early age. As Chavez says, it is this kind of encouragement and support from their peers that helps give women the confidence to become the kind of leaders we need today in our workplaces, communities, and government. MW
---
Corissa MacDonald – Municipal World's Social Media and Digital Marketing Assistant.